Buenos Aires – Capital of Argentina. I happen to stay in 'Almagro' region and it was very neat, properly planned and well maintained. Lots of food options all around the city. Plenty of churches all around. Nice to roam around.
NO ONE SPEAKS ENGLISH. ONLY SPANISH.
Airport to City
People who can speak Spanish can manage to look for Bus from Airport but it is nearly impossible for people who does not understand Spanish. I arrived on Ezeiza International Airport (EZE) after 3 days of travel from India and the immigration went super easy. Officer asked only about the location i was going to stay in Argentina. No other questions. When i come out of customs there were lot of Taxi companies calling people to use their services and each will have their own prices.
I read about this on the internet and decided to go with 'Taxi Ezeiza' which is the cheapest of all. It was not visibly seen when i came out of the customs and had to go bit outside to find it out. It located near to McDonalds. Once i shown my address in the phone the operator ask me to pay 32 USD in cash. After that he gave a receipt and asked me to wait on a location where i saw many people waiting before me.
After 5 minutes another person took us all to the car pickup place and he invited cars one by one from the parking place and sent the passengers based on booking order. Then the driver gave me his phone and asked me to enter the hotel address on google maps application. Then he drove me to the hotel and dropped me in front of my hotel gates. He understands that i do not understand Spanish and try to keep quite throughout the trip. Though Taxi Ezeiza got many negative reviews on Google i did not find any issue during my travel. He was very professional till last and greet me when i enter and exit taxi.
ATM
Though plenty of ATM all around city it was really a challenging thing for me to get money out of it. Argentinean Pesos i could not able to find prior to travel. I did not do money exchange at airport as i was really tired because of 3 days of continuous travel and also the Taxi Service and my hotel was ready to accept US Dollars for their services. But once i wake up after long sleep i need Pesos for any other thing i does inside Argentina and i tried at least 7 – 8 ATM's before i get a working ATM (which issue money with my card). ATM machines has Spanish and i can choose English only after 2 steps and i have no clue of what button i press at those Spanish steps… finally the ATM which works charge 370 ARS charge (10USD) for 2000 ARS (50 USD) withdraw. And the bank is not allowing me to withdraw more than 2000 ARS. So if you are traveling to Argentina please be aware of this and try do your USD exchange in Airport rather loosing big money with this money sucking ATM's.
Food
There were plenty of food options in the city. All major international brands like McDonalds, KFC, Star Bucks, etc… can be located all over the city. But no one speaks English there! And of course Spanish is spoken by more people in the world than English. Found some shops selling food by weight and that was my key to eat here. I do not have to speak a word to buy from these shops. And food was our choice to pick from lot of available options. The following shop was one of its kind and the quality is also good.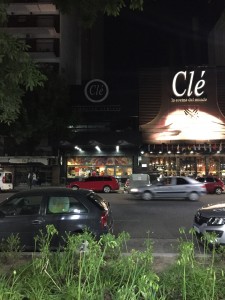 Rice & Noodles are my favorite on this shop. They had variety of chicken and beef dishes. Every time it costs around 150 Argentinean Pesos (equal to 4USD) , but we can taste really different dishes within that budget.
Uber works here if you want to ride taxi on reasonable price.