This is a perfect option for anyone who have long transit in KulaLampur Airports (Both KLIA & KLIA2). They run this trip twice a day (11Am & 3Pm) except Friday. Friday they run only 3Pm trip.  This tour was known as  1RM tour in the past as they happen to charge 1RM / person to take this trip. Now they have increased price to RM50 / Adult and RM25 / Child.
This tour takes approximately 2.5 to 3.5 hours depends on crowd, etc… So if you have transit in KLIA / KLIA 2 around that time you can consider this trip. This trip starts and ends at "Putrajaya & Cyberjaya" station. To reach this station from KLIA / KLIA2  you have to take the transit trains towards KL Sentral.
Please use the following link to know more about this train…
http://www.klia2.info/rail-train-services/klia-transit
Once you reach this station go to ground floor where the bus terminal is. I see this sight seeing bus standing at terminal 6. They will also keep a banner near to the bus explaining a bit about the trip and cost info. The money has to be paid to the person in the bus itself and you can join tour instantly. Be on time as they mostly depart on time. As soon as you pay they will give you the following. A ticket and tour plan.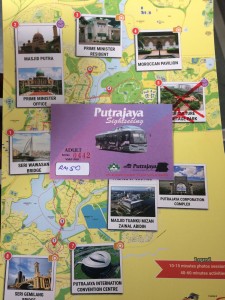 These are the stops they will stop the bus and let you down and take pictures and also in some places they give 20 – 30 mins for us to roam by ourself. These places were picked by the official tourism department of Malaysia so guarantee for you to cover most of the things you wanted to see. The guide also explain about each location whenever we reach a attraction.
Finally they will drop you back on the same 'Putrajaya & Cyberjaya' station where they picked you.
Putrajaya is the place where the government of Malaysia resides !!! All official buildings, prime minister house, office, etc located on this city. So its worth to spend time in there.
Happy Travels 🙂