Paris – The capital of France got lot of historical collections. Especially 'The Louvre' museum have collections that needs a lifetime to check it all. I almost walked until i collapsed and yet i did not see so much of historical collections.
Eiffel Tower looks awesome from long distance but when i get near i can see it is a outdated iron structure with no proper maintenance. They also kept a section of tower drawn on a board and attached lol… see the pic below…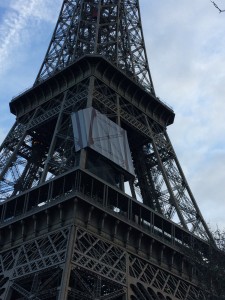 It was quite surprising for me that the number of African origin people i saw in Paris is more than white people. Its good to see everyone living together in peace. Very sad to see lot of people begging in the streets with the board 'Family from Syria'. Too little kids sitting on 2 – 3 degree freezing cold hoping someone will give something to eat! When i walked from 'Eiffel Tower' to 'Arc de Triumph' i must have seen at least 10+ family on the road with such boards. And in the evening times they come inside the tourist crowd and asking help to everyone they encounter.
Also i see people bypassing metro tickets all the time. Sometime i felt am the only person put the ticket in to the machine and let the barrier open. Most of the youngsters just bypass it and keep go.