US Visa can be consider as the most powerful visa of all. Because any one hold a valid US visa can enter plenty of countries like Mexico, Turkey, etc… etc… without obtaining a visa for that country. This makes life easy for many travelers. But at the same time getting a United States Visa is the most tough one as well.
So the process of obtaining US tourist visa starts from filling DS 160 form online. This is the following URL to create and fill DS 160 form.
https://ceac.state.gov/genniv/
That was quiet a big form with several pages. For me it does not sound tough because Canadian Visa Forms and supporting documents preparation was hell larger work than this. As almost all questions were identical to Canadian visa forms… i was able to fill it all in less than an hour. Once i finished the form and submit it i got a confirmation page. This confirmation page is needed so i took a print of it.
The second step is to pay visa fees. For B2 Tourist visa the fee is 11,200 Indian Rupees. To pay the fees we need to create a account in the following website…
https://cgifederal.secure.force.com/
The account is free to create and this is the account by which we also schedule our interview with the consulate near to us. For Indian nationals face to face interview is must for Tourist Visa. The visa fee payment is not straight forward. It might confuse because the user flow is not that friendly.
Once we created an account and logged in we need to click on 'New Application' on the menu and initiate the steps. They will ask different questions on each step like where you want to attend interview, what is your preferred language for interview, etc, etc… then at one point they will ask you to pay visa fees by 'NEFT' or at any counter in the banks listed there. So here we have to halt as NEFT transaction may take 1 – 2 business days for them to receive and generate receipt for it. This receipt reference number is needed to move forward on this step. NEFT also not a general transfer to an common account. If we choose NEFT option on this step a new window will open and it gives instructions on how to and where to make NEFT transfer.
They generated a unique beneficiary account number for my application and displayed on the screen with IFSC Code. So for my application i had to add that dynamic beneficiary account on my net banking account and transfer the visa fee.
After i transfer it was quite unsure what is next ? I waited for a day hoping some email or sms will come but nothing came… so i contact their customer support here on live chat…
http://www.ustraveldocs.com/in/in-main-contactus.asp
The support executive told the reference number is nothing but the part of unique beneficiary account number only. I had to remove some characters in the beginning and then i had to use the number in that reference field asked on payment step. When i enter it says 'No record found' initially. So the operator told that i can keep enter it after few hours and see if that was activated. After 30 mins i tried and it worked… There was no notification or nothing… its just we need to try our self to see if that was activated.
The page took me to next step where they asked me to schedule 2 interviews.
VAC Bio metrics Visit
US Consulate Face to face interview
Based on availability i choose 'VAC Visit' on a Friday and 'US Consulate' interview on a Monday. First interview is to collect our finger prints and take a photograph. Second interview is the actual place where we face a American visa officer to get to know if we are eligible for the visa or not.
For 'VAC Interview' i had to go to VFS office in Numgambakkam, Chennai. It was very quick process. Took less than 30 mins for the total work to be done and come out. They also put a sticker back to the passport and it hold some information like DS-160 number, payment receipt number, etc…
The next interview is on Chennai US Embassy in Gemini Circle. I scheduled interview on 8:45AM batch. I reached there at 7:50AM itself. There was a church behind this embassy so i gone there and spent some time. They keep schedule time displayed on a board outside embassy to form a queue of same batch. When our time comes we can enter that and join the queue.
It was really shocking for me to see huge amount people were standing in queue for a 15 minute slot batch… Several armed police were on duty outside the embassy and so many security checks… and so many employees on guiding people on the queue… We had to walk a lot before entering the actual building… The embassy is not really big. So they had to form queue around the building so that they can adjust many people within the space they got. It took nearly to an hour to enter the main building of embassy from the time i joined the queue outside embassy. Chennai humidity will make us sweat in the mean time.
Infact the embassy sent a email on the day i visited VAC with title 'Expected delay at the Chennai Consulate' which had a message that you may end up in spending long time at embassy at the day of interview, due to some internal operations issue.
No electronics including mobile, pen drive, laptop, etc… nothing allowed inside… i saw a guy with laptop charger, phone charger, pen drive, etc… and running here and there with out knowing where to keep it safe as they denied him entering building with those items. He crossed the road and try to keep it on the other side building wall and the security personals severely warned him for doing that… and then he had to take it again in his hands and run for any other option… later i had to enter the building and not sure what he did… so be careful before you come to Chennai embassy. Even mobile phones were not allowed inside and if you had any of that sort you will have to dispose it somewhere or risk it by giving to someone who you never know !!! Not sure of any storage options as i did not see any… ! But i saw bunch of auto drives keep asking for some services like 'you want to make a phone call' ? etc… so may be they can help… but it is on your own risk. Other not advisable option is behind the embassy the church is also have a big graveyard where you can just leave things on your own risk. But again if the security saw that they may not allow you to do so. Better come with no electronics !
After long stand once we entered the embassy building there as a first step they checked our passport and finger prints. Once it matches they asked me to go and stand on a queue where people were instructed to go to visa officer windows one by one. There were about 10+ windows so the queue moved fast. It was openly done and we can actually see and listen to what is happening with the other applicants. I see many people come in formal dress, coat suites, shaved properly, etc… and me totally in reverse direction… i did shaved 4 days back to interview…  I wear t-shirt and jean and my shoes are sports shoes and it was bit dirty. I thought am going for an tourist visa interview and why i need to be on formals. When my turn comes the security person asked me to go to a window and stand… when i go there i saw there was a person already standing on the window and being interviewed. So i stood  few steps back and wait for my turn.
The visa officer i faced is a young American lady in Chudidhar. That was very good to see a American in Chudidhar. And she handled the previous person very politely. Thought she refuse visa she speaks with always smiley attitude until that applicant leaves. I was also noticing a guy in the next window was being smashed by the officer with so many quick quick questions. The visa officer asked to the guy 'have you been any other country before?' and the applicant said i been to 'Andaman'. Then he himself told that it is in India only. And officer tone changes thereafter and he asked few questions about his job role and finally said you visa application is refused under 214 (not sure the number i heard correctly) article… So got to know it is very important to stick to the question asked and not to tell stories.
so every where rejections is what i saw and that made me bit panic…
Now comes my turn… so here is what happened…
Me: Good morning Officer ( I gave my passports through the window myself before she asked for it )
Visa Officer: Good Morning ( She took the passports and did something on her computer )
Visa Officer: What is the purpose of visiting United States ?
Me: Tourism
Visa Officer: Have you been outside of India before ?
Me: Yes. I been to 24 countries in the past ( She saw the passports with many stamps and still she asked that question. so i understand she is just following the rules exactly )
Visa Officer: Where and all you been ?
Me: You want me to tell all 24 countries name ?
Visa Officer: You can tell some of them ( She was keep exploring my passports )
Me: Australia, France, Belgium, Netherlands, Russia, China ( I remembered and told only 6 )
Visa Officer: Which part of United States you are going to visit ?
Me: New York
Visa Officer: How long you are going to stay in New York ?
Me: 4 days
Visa Officer: Why just 4 days ?
Me: Am traveling Toronto as well on this trip… so why it is short… My Canadian Visa is in my Current Passport ( This made a huge change immediately… She put my old passport down and took my current passport and start looking for Canadian visa )
Visa Officer: What you do for living ?
Me: ( I told my Job profile )
Visa Officer: How much you earn per annum ?
Me: (I told my income)
Visa Officer: Are you married ?
Me: No
Visa Officer: Do you own any property in India ?
Me: Yes. You want to see the document ?
Visa Officer: No i do not want to see any documents at all…
That's all the conversation. She was looking at my Canadian Visa for long time and also she was looking at my Schengen visa for long time… Other pages of passport she moved so quickly. Then she did some thing on her computer. Finally she gave my old passport though the window and put my current passport on a tray inside and told me your visa is approved with a smile 🙂
I asked her when can i get my passport back. She said it will happen real soon and gave me this paper… Then i said Thank you and moved off the window…
She had smiley attitude till the end and spoke very softly and did the interview very gently. In the embassy apart from Visa Officers everyone else i saw there is Indians only. I mean the people on security and the people help us in queue, local language assistance, wheelchair assistance everything done by Indian security officers only.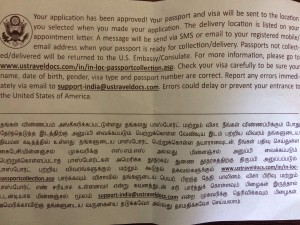 The paper she gave shows the following URL where we can track the passport status.
http://www.ustraveldocs.com/in/in-niv-passporttrack.asp
On the day of interview the tracking page showed the passport was still with US Consulate. The next day it showed "Passport has been received from the consular section, and is currently being processed for delivery". Third day it said 'Your passport is ready for pickup'. I choose to pickup passport on VFS Bangalore location. Next day i went to VFS Office in Bangalore and shown my appointment confirmation letter with photo ID proof and they gave my passport back with visa stamped.
United States gave me 10 year valid 'B1/B2' visa. The beauty is the visa expiration date is beyond the passport expiry date.
Until last the documents i took was not asked by the officer during the interview day. I just came back with all items i took except my current passport which they took for visa stamping. I saw many people came with huge file folders and gone back without even opening it. Also note there is a wait time for 2 – 3 weeks from the day you pay the visa fees and get a slot for appointment. Nearby auto guy told me the embassy process at least 1500 applications every single day they work !!! So it always be crowded and be prepared to stand on long queue if you are visiting Chennai US Embassy.
Dealing with Auto Drivers
As we can not carry mobile phone the Auto is the convenient choice to travel from embassy. But auto guys will charge you on their own. So be careful to take fixed amount quote before you board. They were nice people but unfortunately the domination of OLA in the city has impacted their life a lot nowadays. These are the only chances where they can make big money as they know the Visa applicants are not allowed to get mobile phones. I wanted to go to Broadway bus stand from the embassy by auto and he told me it will cost me INR 250. I knew the distance could be around or less than 5 – 6 kms only but i said ok because i aware of the hike on fuel prices recent days.
He asked me first where am from and i told him am coming from Bangalore. He thought am an outsider new to Chennai. After that he asked me the result of the interview. I did a big mistake of telling that i got visa… through out journey he was telling his personal and professional issues and asking me to help his life by paying more… So be careful when you take auto… never tell them that you got visa!!!
He drives through all unwanted areas… thinking that i should feel the bus station is too far., so he can demand me more money… When i told him i did my Engineering in Chennai and aware of all these routes… he told me that they changed many routes as one way recently… so that he ended up rounding in those areas… later he joined in the main road and drove properly further…
Be careful and do not disclose to auto driver that you got Visa unless you want to hear their side of sad stories and pay more !!!
The following link shows where and all you can travel with a valid United States visa… http://www.touristhelpline.com/visa-free-countries-for-indians-having-us-visa/