This article also helps for the people who looks for Luang Prabang to Bangkok by bus. As Vientiane located between Luang Prabang and Bangkok the buses mostly go via Vientiane. I booked the tickets from the following website:
https://www.baolau.com/
They does not have any buses directly goes from Luang Prabang to Bangkok. So i booked as two tickets. First travel is from Luang Prabang to Vientiane overnight bus. And second travel is next day Vientiane to Bangkok overnight trip. So got a day to explore Vientiane, the capital of LAOS.
Luang Prabang to Vientiane is no complex travel as both are located in one country (LAOS). But Vientiane to Bangkok travel is little complex as it needs immigration check out from LAOS and Check in at Thailand. So am going to explain in this article how did every step happened so it may help someone looking for similar trip.
Baolau.com booking was actually handled by 'Phanthavong Travel' company.
Luang Prabang to Vientiane:
The travel operator sent a tuk-tuk to my hotel to pick me 2 hours prior to the bus departure and the tuk-tuk driver took me to Luang Prabang Northern Bus Station from where the journey begins. The tuk-tuk driver took the booking printout from me and got the actual tickets from the counter by himself. He gave instructions and left the place. This is the bus waiting to take us to Vientiane.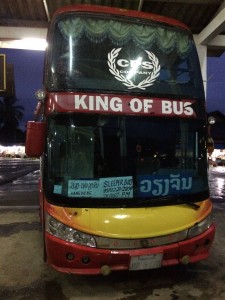 This is the bus station of Luang Prabang where the travel starts from.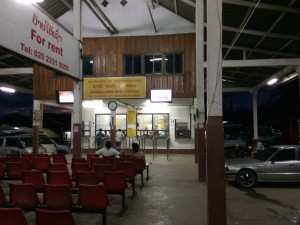 The bus is not in a great condition but good to go. They gave a plastic cover to keep our footwear. The sleeper coach is not very comfortable but it is ok to adjust. As the airfare from Luang Prabang is very high this bus travel is the best we can get for our budget. The ticket comes with a food coupon as well which we can use on the highway motel and get a free Meal. The journey starts 30 mins late because of issue on the bus. They kept very chill inside the bus so it was very comfortable to sleep.
In the mid night around 1AM they stopped on a motel but very less people go down for a free meal. I gone down but i don't know what to order as everything is local food items and also they had menu on the local language. After 30 mins break the journey started and early morning around 7 we reach Vientiane. In Vientiane bus station there were tuk-tuk drivers approached as soon as i got down and i took a shared ride to the city.
Vientiane city is in the border of Laos – Thailand. These two countries separated by 'Mekong River'. When i stand from one corner of the river i can see the people of Thailand on the other corner doing fishing. Quiet a big river so crossing without a boat is not possible. Though i see the half river got no water at that time it is still a huge river got massive water flowing.
Vientiane to Bangkok
The travel operator actually pick you from your hotel and take you to the bus station. In my case my hotel was very near to the travel operator office so i told them that i will come to their office by myself. When i reached there the operator verify my ticket and started giving me instructions. She gave a slip where it was mentioned that '999 bus company' is the operator who will handle my travel to Bangkok once i crossed the border of LAOS. She told that the travel is of 2 segments. One is from Vientiane to Nong Khai. Second is from Nong Khai to Bangkok.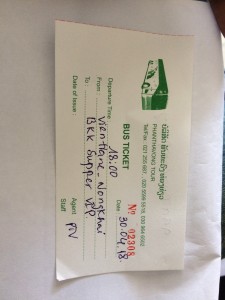 She also directed me to a car where the driver was instructed to drop me on a bus station (Central Bus Station) from where the journey starts. The car driver took me to that station and took a ticket for me from the counter and told me that i have to wait there for about 30 mins and the bus will come with the board 'Nong Khai' which will take me to the border and then he left.
I felt little uncomfortable at that moment as there were many buses departing and i have no clue which one to approach. When i go to conductors they see ticket and say 'this ticket is not for this bus'. Like me many foreigners running here and there to check if that is their bus. It was not that bad as the bus station is tiny so its easy to go and check on all incoming buses.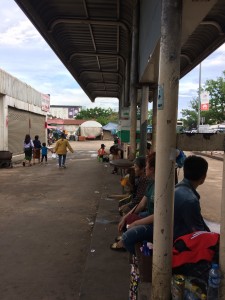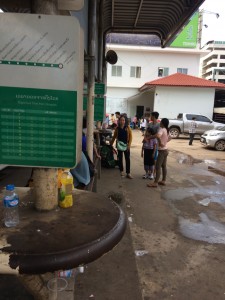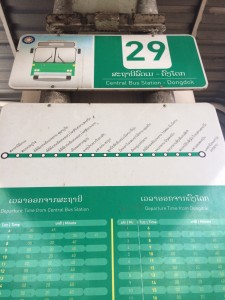 Finally after 10 mins of delay from departure time the bus with 'Nong Khai' came. From that station i saw buses departing directly to Bangkok.  I was so upset that if i have booked that semi sleeper bus it may be a bit easy travel for me as i had to deal with only one bus from Vientiane to Bangkok.
I actually booked for a sleeper bus ticket. But i did not got a sleeper bus on both the segments. I asked this to baolau.com but no reply. I do not want to really fight on this because the travel operator (Phanthavong Travel) was really very sweet from the very beginning and i believe this may not be their fault as the slip given to me says i should be given with sleeper bus.
The first segment of travel is just 45mins to 1 hour. The border is just about 25 kms from Vientiane Central Bus Station. The bus conductor gave us 2 forms. One is departure form of LAOS. Second one is Arrival Card of Thailand. Bus go in slow speed so we can fill all information before we reach border. The conductor will be there to assist us incase if we need any help in filling those forms. When the border comes they ask us to take luggage and get down to finish LAOS exit process. Once i took the exit stamp in the passport they asked me to go back into another counter to collect exit pass. They charged me 11000 Lao Kip and gave me a pass. And i gone to the barrier and put that pass in it and the barrier got opened and let me out of LAOS officially.  As soon as i came out i saw our bus was waiting for us.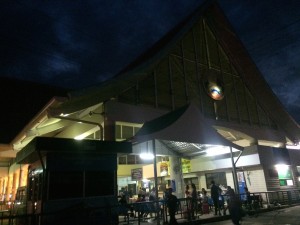 Once everyone arrived in the bus the bus departed to Thailand. It was a bridge which was called as 'Thai-Lao friendship bridge' separates two nations. As soon as we reached Thailand immigration office we were again asked to take luggage and get into immigration building. It was so empty. We were the only bus there and two officers were doing immigration process. I had thailand visa already so gone to immigration officer directly and pass the arrival gate. Not sure about the visa arrival on that point but it was told that they gave visa on arrival on that location. It was so quick and easy as there was no crowd.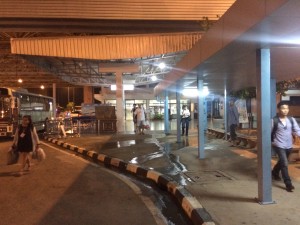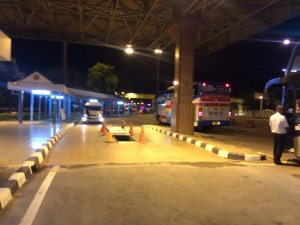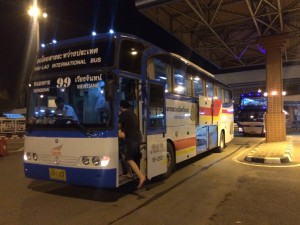 Once everyone finished the immigration process the bus take us to Nong Khai bus station. Once they dropped us we see a sight like below. The cabin where the light is on is the next operator who gave us actual tickets to Bangkok. I do remember them here also that my ticket is a sleeper bus ticket.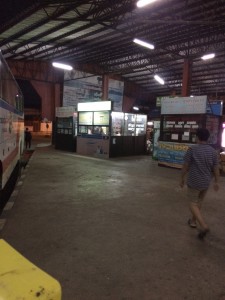 She saw the slip and then she made some checks with the numbers in the ticket and finally gave me a ticket and asked me to show that to the bus standing 2 blocks away. It was a double decker bus but not sleeper. It was a semi sleeper bus. The conductor who checked my ticket take me to seat. I was keep telling him to recheck the ticket as my ticket should be a sleeper coach bus. But when he showed me my seat i just shut my mouth myself and told him thanks for that seat. Because it was the first seat on top deck of the bus. Perfect to see the city. Then he also give me a pack of snacks and drinks. I didn't sleep full night and was watching the beauty of thailand.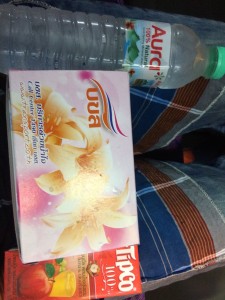 The one thing instantly varies as soon as i cross the border is driving direction. In LAOS people drive in right side of the road and in Thailand it is on left side (same as India). In the night they stopped on motel. There were few shops like sevenEleven so it was convenient to buy some snacks to keep me awake. Morning around 8AM we reached MoChit Bus Station in Bangkok.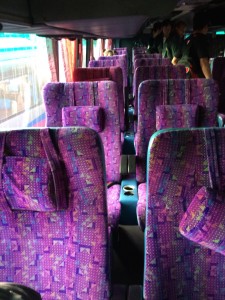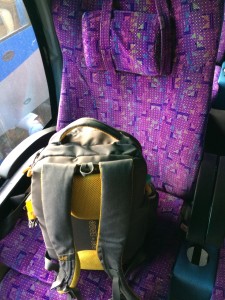 The travel from Nong Khai to Bangkok was awesome for me as i sat on first row and watching all around.