Statue of Unity is the tallest statue in the world. It is located in the state of Gujarat, India. Though the works were not really completed it is already open for public and there were lot many people visiting it already irrespective of current real hot climate. The statue is not the only attraction here. They are converting the dam and its surrounding places to feature nice gardens, boating activities, etc… when they finish it all the location will be absolutely awesome tourist place to visit.
I booked the tickets at https://soutickets.in/
I choose Express entry ticket as i ware this is summer holidays for kids and a long weekend as well. So thought a lot of crowd will come and do not want to spend full day in long queue. But actually the crowd came in the afternoon time only. Morning section there was no crowd and it is waste of money to buy a express ticket. I paid INR 1030 for the ticket and if i take the ticket in the counter it was around INR 600 only including everything i visited. And there was no Express Entry in any place except a board near to the statue entry location.
Statue of Unity located in 'Kevadia Colony' town in Gujarat. The best way i found to reach here is via Vadodara (Baroda) city. The city is well connected with other parts of India via Air, Rail, Roadways. From Bangalore to Vadodara round trip flight ticket costs us around INR 7500 for each person. From Vadodara there are buses to Statue of Unity periodically but we find it hard as people are speaking in Gujarati or in Hindi. We gone to Central Bus Station in Vadodara early morning and the guy in ticket counter told the bus will come at 7AM in platform 18 – 20. There was a print screen on the glass too.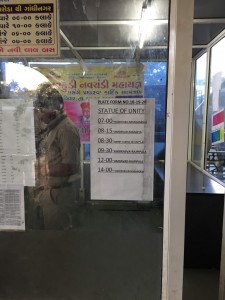 There were few more people like us waiting for the bus. A old lady was there on the crowd stands out with her loud voice debating with the conductors around about the bus to Statue of Unity. So we decided to follow her as she was there with the same plan as ours. Once the bus comes there was a rush in getting seats. Finally we all found ours. The bus was not in good condition. But the ticket costs INR 49 / person only.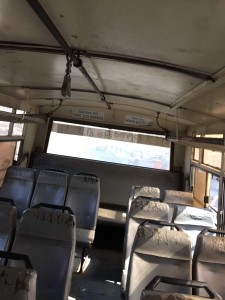 There was a deluxe AC coach scheduled at 8:30AM departure but we do not have time as our Statue of Unity ticket entry slot is 10AM – 12 AM. The bus ride will take 2 hours time minimum to reach the statue. Once we reach 'Kevadia' stop there was a confusion if we have to get down there or bus will take us to the ticket counter which is far from that place. Again the same old lady raise her voice to conductor about this and he told they will drop us in the ticket counter location itself.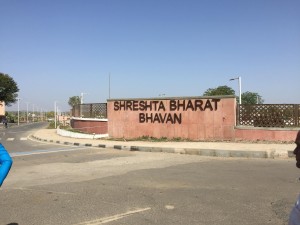 The bus dropped us in a place where we see a complex named "SHRESHTA BHARAT BHAVAN". We walked into it and found the Ticket Counters, Lockers, Restrooms, etc… buildings… I dropped my bag at Locker room and it is FREE ! They take name, mobile number, etc details and tell us the number of locker box. From this complex they have buses which takes us to all attractions further. My Booking inclusive of this bus ticket as well. So we walked towards the queue waiting for Bus. There were many buses so waiting time is less and bus got AC. The head of statue is visible from this complex itself. Once we board the bus they took us to our first point of visit… the statue itself. There were many Gates in the statue location and they dropped us at Gate 4. There was a formal check conducted and we were allowed inside the statue complex. We need to walk quite a distance to reach the statue basement. There was another ticket counter there. Then there was a metal detector machine and then a manual security check. After that point most of the way towards statue they got moving walkway so it was nice.
The sun was burning us down. It was 44 degree according to google.
Once we reach the basement there was a museum and lift to visit heart portion of the statue. There were 2 lifts so the waiting time is less. Here they scanned our tickets and marked it as used. The lift is so short and there were pictures of how they made a empty land to what it is today with multiple pictures explaining it. The heart portion was nice and it offers the nice view of Dam and surrounding places. There is nothing to see much. Just a simple hall with balcony view kind of thing. 10 – 15 minutes people just stay and take lift back to basement. While going down they stopped at a different level which allow us to visit the foot section of the statue.
From there we can visit bottom museum again via lift or escalator. Museum got a open theatre which plays a small video clip about Sardhar Vallabhbhai Patel life. There were many tiny manual interactive video screens explaining various things but i see very less people using it.
Finally after walk away from the statue area we found a Food Court. Once we finish lunch we again walk back to Gate 3 where they had queue of people waiting to board bus towards next attraction. There was no crowd when we were there. Bus came quick so we took it and gone to 'Valley of Flowers' stop. This place is nice but the only thing is too hot at this moment and there is no much option for us to sit and enjoy the views of statue and dam. Evening times it must be fun to be here. Plenty of flowers and selfie points and artificial structures makes this place very nice.
After this we again took bus to our next stop Dam. Actually it was again a view point. Not really Dam. They had pictures of the place when the dam was overflown with massive water, etc…. We did not actually get to Dam. Not sure why the ticket was made to shown Dam in it. That's it. We also ran out of energy. I had to keep wet my kerchief and apply on head to survive the hot air.
We took same bus and came back to ticketing complex. Then they return the bag and we head towards exit. We were advised to visit outside complex to look for autos and use it to reach nearest bus stand and look for bus towards Vadodara.
When we come out and approach a shop guy he direct us towards a Maruthi Van which was standing there with already people on it. When we gone near we saw the same old lady who came with us morning inside and she told she was waiting in the nearest bus station for a while and did not found any bus to Vadodara. Finally this Maruthi Van guy asked INR 100 / person for Vadodara. We also board on the van and come back to Vadodara. It was not a comfortable journey but better than standing out there without a way to come back.
So it is absolutely a better option to come on own arrangements until they fully ready with dedicated buses to this place. Public transportation is really poor at this point. I saw OLA offers this round trip at around INR 3000. It is a good option at this summer.
Vadodara is very nice city and we are lucky to find a Tamil hotel in the street where we stayed. So were no issues on food. City also features many Temples, Parks and mainly very nice roads in almost all places of the city. The airport also located very close to city. It is a best option to use this city as base to visit the statue.