Bus is the cheapest way to reach Cambodia from bangkok. From Mochit 2 bus terminal bus departs towards Siem Reap, Phnom Penh locations of cambodia. Not only that also there are direct buses to LAOS and VIETNAM from here.
How to book bus tickets ?
Booking tickets in advance is the best option as there exists only 2 services in a day towards Siem Reap from bangkok. I have no idea how many services they have for other locations. I have made made my bookings in this website : http://www.thaiticketmajor.com/?la=en
The ticket cost from bangkok to siem reap is 750 Bhat. When you book there will be a Convenience fee of 20 Bhat and Service Charge of 23 Bhat. In total the reservation cost you 793 Bhat. Take a print out of it.
Boarding the bus
In bangkok once you reach Mochit 2 bus terminal find Thai Major ticket counter inside. There will be many counters inside which is for different routes and transports and don't get confused with that. There will be a separate counter for Thai Major bookings. I found one in top floor of that terminal but it was closed. So i was advised by one tourist to look into a counter at the ground floor. So i took elevator and found one near by the entrance in the down floor.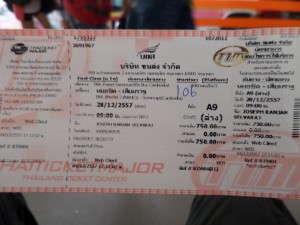 The process was very simple. I have given my booking printout to the girl in the counter. she gave me the above ticket and told me to wait on platform 106. She also show me the direction and it was pretty easy for any one to find as the platform (sometimes they say bay) 106 was very near to the left side entrance.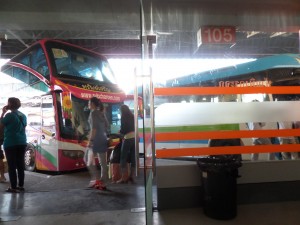 I sat near by platform 105 as the seats near by platform 106 are full of people waiting for their buses. The following are the two pics of my left side and right side views inside the terminal.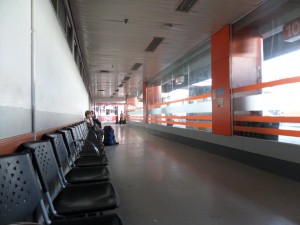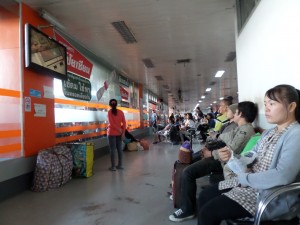 Actually i booked for 9AM departure. But as one person in 8AM departure has failed to arrive hence the bus was waiting so long. so the conductor asked me to take 8AM bus so that they can exchange the ticket incase if the other person arrive late. Thats a good thing for me too as i can save a 30 – 45 minute wait by agreeing to it. I said YES and the journey begins. Once the bus started the conductor gave me a pouch with a cold cofee, biscut packet and a cool drink. Then he gave this ID card and asked to wear till the Cambodian entry process over.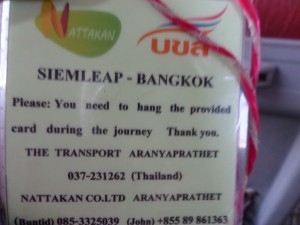 I was too excited as this is the first time am crossing nations by road. So far i have done it by Air and Sea. But this is the first time by road. I have got my visa online from this website https://www.evisa.gov.kh/ by paying 40$ (it costs only 30$ if you take on arrival. the wait time isn't too much).
When we about to reach the Cambodia border POIPET, the conductor gave this following card. It says pay 100 bhat and visa fee, etc… to us, you do not need to even get down from bus for your immigration formalities. That moment i got to know how corrupted these people are.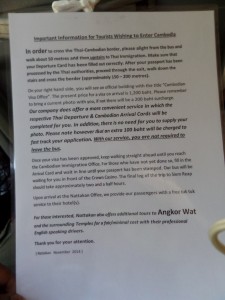 No one in the bus agreed for their service so the conductor was so dull hence after. When the border comes they stop about few kms before and gave us lunch ( it was a fried rice bowl ). We were having food till the bus reaches border.
Immigration Process – Exit from Thailand and Entry in Cambodia
In border the conductor asked us to take walk into the immigration office. The following is what i have seen when i came out of bus in the border. Took walk inside the way the arrow shows.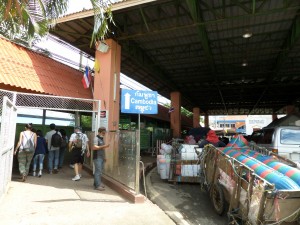 We headed to the building with the board 'International Passport'. Whoa… what a crowd in there. More than one hour i stand in the queue to get exit stamp of thailand. I felt i should have given 100 bhat and skipped that queue as it was too hot inside because of terrible amount of people inside a small office. The officer suddenly questioned about my tickets back to thailand as it seems the ON ARRIVAL thailand visa is not eligible to make a exit on that point. I mean you will get on arrival thailand visa only if you have flight ticket to depart from thailand. I told him i have a flight ticket back to thailand and also another flight ticket to depart from thailand again. He did not have time to check as the queue was too big. so he stamped exit and told me to move on. When i come out i realized that am walking on the border between Thailand and Cambodia. The way looks like below.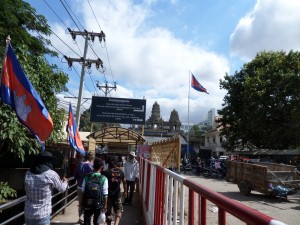 When i walk more i have seen this board shows two ways. One is for the people already having visa and another one for people without visa. Follow the sign based on your visa status.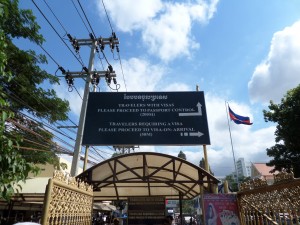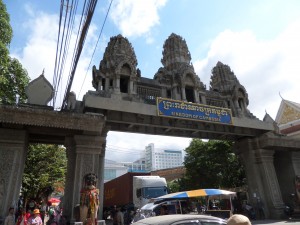 As i already had visa i proceed straight and cross the road where i see the arrivals counter in the right side. It does not look like a immigration point. Looked like a mechanic shop. That dirty…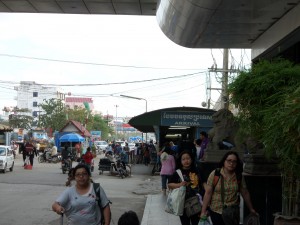 The bus we came was there before arrival point itself. so i had to return back when i get the arrival stamped.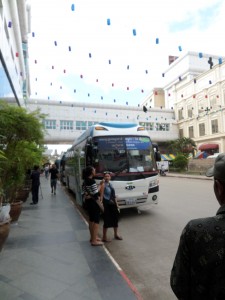 There again a queue. Takes about 45 mins as there were many people who paid 100 bhat were allowed to skip the queue. Once i got the entry on my passport, just rushed back to the bus and found am one of earliest people to arrive in. Oh god one of the co passenger passport was valid only for about 2 months so the visa got refused. That problem takes one more hour for us to wait. The shops in between have only BEER bottles. No cool drinks. weired.
Then the journey starts after 4 hours of halt at the border. About 3 hours we traveled to reach Riem Reap. From the bus office they told there will be a free tuk-tuk to the hotels. When a tuk-tuk driver approach me he told he will also take me through all city sight seeing from the next day and it will cost so and so. I told him i had all my bookings already done so i can not take his service. Then he told he will take me to the hotel but i have to tip him 2 US dollars. I said ok as i was really really tired. Funny thing is the hotel is in about half km distance. very walkable distance. After i paid him 2 dollars he was very happy and did Cambodian style salute.
People who travel Cambodia by bus can take this as advice:
* Book your tickets online and save your seat.
* Come early to Mochit 2 bus terminal as the near by bus station roads traffic were usually high.
* Do not get brain washed by bus conductor as they do it to make money. Do all formalities by yourself and answer bold at the immigration point. Behave like you know everything. Skip anyone who interfere your way asking for paid services for visa, etc…
* Your bus will wait till you come even if it takes 5 hours for you to complete all process. I complete my process in 2 hours but waited in bus for another 2 hours for everyone in bus to finish the process and arrive back.
* Take visa online or in the visa counter by yourself. If you take online you can skip one of 3 queues in the total process. If you take online visa you need to have atleast 2 printouts. One will be taken at the arrival process and you need to keep one till you depart.
* In Siem Reap people use US Dollars. In ATM also you will get US Dollars. Before you arrive its better to take dollars in change like 1, 2, 5, 10…. as everything costs you in little dollars. If you don't give exact dollars they will return you some change in their local currency 'cambodian riel'. That was really weired and horrible for outsiders to handle as the its value against dollars are really low.