Mauritius – One of the most beautiful country with beautiful people. The immigration officer i met was very nice and he keeps talk funny till the immigration is over. He gave the first impression of the island and it was the same throughout the country. People i met here were extremely good.
Driving
Indians can drive in Mauritius with driving license issued in India. Driving is almost same as India. Scooters are available for rental at 700MUR / day (20USD approx). They give you scooter with full tank of fuel and it has to be returned in the same way. The rental person will take a copy of your VISA / MASTER card along with signature just to ensure his vehicle safety. Roads are pretty good to drive all the way from North to south end. I used coastal road to ride from Blue Bay to Grand Baie and it seems to have good maintenance. And to return back i took Terre Rouge – Ripailles – Mahebourg way and the road is far better than the coastal road. So visiting all corners of the island is possible in one day.
Traffic cops are not rough. When a cop stopped me he asked me to show if the Sound Horn is working. Then he asked me to show Driving License. And noted down the number in a paper and asked me to move on.
Tamil in Mauritius
The currency of  Mauritius has English, Tamil, Hindi words on it. Even the number also mentioned in English as well as Tamil.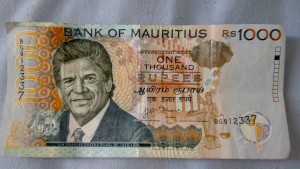 Plenty of Hindu temples are available in Mauritius. Many of them holds name in Tamil itself. Movie theaters in Port Louis screening Tamil and Hindi movies as well.
Indian Oil serves Mauritius as well.