Japan Rail Pass (Commonly known as JR Pass) is the best option for anyone who wants to travel throughout Japan in budget. This pass is available only for Tourists who enter japan with 'Temporary Visitor' stamp on passport. This pass is valid on all 'Japan Railways' (JR) group of company operated transports (Train, Bus, Ferry) throughout Japan. Most importantly it allows tourists to take high speed bullet trains (Shinkansen).
Japan Rail Pass needs to be purchased before we come to Japan. It can not be purchased inside Japan. I did my purchase from the following URL:
https://www.japan-experience.com/japan-rail-pass
It was delivered to my address in India (Bangalore) in 2 days of time by FexEx Courier service. Including courier charges the pass cost me around 18,000 Indian Rupees (approx. 265 USD). I purchased 7 days ordinary pass as my travel in Japan is only 11 days. You can purchase for more no. of days if your travel is lengthy. If you want high comfort seating you can purchase Green Class pass. In Japan Railways the Green Class refers to High Comfort class travel. But in my opinion as i have seen the Green Car close by there is no real great difference from ordinary class except those cabins looks pretty much empty and feels no crowded. However only a person traveled on both class can tell the difference. I brought ordinary class to keep it in budget but i later found that's a best decision i made as on my view Green Class is unnecessary luxury as ordinary class itself a high comfort journey. In some trains like 'Sakura Shinkansen' (Sakura Bullet Train) the ordinary class looks even better than a 1st class flight cabin.
The voucher i got comes with basic information booklet which explains everything about this pass. So once i landed on Japan i visited an exchange office in the Airport and handover them my passport and the voucher. The representative person checks if my name in passport matches the voucher and if i have 'Temporary Visitor' stamp on my passport. As it all looked good on his eyes he started converting my voucher to a Pass. He gave me this following pass to me and asked me to fill my name, country and passport number.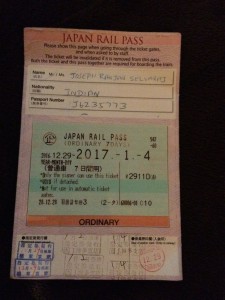 The above is the pass which we can show on Ticket Counter to get a reservation or get on to train without a reservation.
This pass can be used on Narita Airport Express (N'Ex) which serves between city and Narita Airport in Tokyo and also this pass can be used on Tokyo Mono Rail which serves between Haneda Airport and Tokyo city.
This pass can be used in Hiroshima free sightseeing loop buses.
This pass is valid on ferries run between Miyajimaguchi Station(Hiroshima District) to Miyajima. (If you are visiting the famous Itsukushima Shrine)
Booking tickets in advance is not must but for peace of mind it is advised to do so. My travel is during new year's eve and it was a super rush period in Japan as it was holidays for Japanese here. There was a good challenge for me in getting tickets reserved. Prefer window seats while booking as Japan is really really beautiful country and it is a great treat for your eyes.
Usually airport ticket offices be busy and they possibly refuse to do reservations on the day you exchange pass. Prefer to do it on railway station ticket offices as i do see nagasaki, hiroshima, kyoto station ticket offices are damn empty even in these rush period. And they will handle your travel plan so politely and advise you for better options.