Suvarnabhumi Airport has very good transportation facilities. You can take Bus or Metro to reach city in minutes. The most beautiful stuff is you can take bus to various parts of thailand from this Airport itself. You do not need to reach city bus terminal for this. From here you can reach pattaya for just 134 Bhat. If you want hotel drop off service also you can get it in 200 Bhat. Very cheap compare to TAXI which cost you around 1500 Bhat.
But i reach "Don Mueang International Airport", one of the two international airports of bangkok, as i fly through AirAsia from Cambodia. From Don Mueang airport there is a FREE shuttle service to suvarnabhumi airport., available only for passengers who have onward flight ticket departs from Suvarnabhumi airport. But my flight was about 4 days away from the day i landed on Don Mueang, but still the person who is incharge let me to use that service. So i reached Suvarnabhumi Airport from Don Mueang for FREE. To use the free shuttle just come out of the airport immigration where you can see the exit ways… where you will also see the shuttle service board. If you go outside you can see a person sitting near to shuttle board to whom you need to report and get your onward ticket stamped. Then only you can enter the shuttle bus as the driver of the bus checks for it.
Please note the alternate ways of reaching Suvarnabhumi costs you some bhat. The best way to reach is ofcourse TAXI. But that will cost you meter cost + 50 Bhat for driver. There were buses to Suvarnabhumi, but for that you may need to exit airport compound to reach that terminal.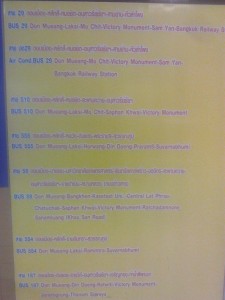 You can take any of these buses to reach Suvarnabhumi Airport or there are buses in airport terminal itself to reach Mochit Bus Station from where you will get frequent buses to pattaya. From Mochit2 bus station to pattaya fare is 149 Bhat. Please check the respective websites of transports for current price.
Once you reach Suvarnabhumi Airport, go down to the first floor where you can see the transport counters where you can get your tickets for the next destination in thailand. I have not gone for service with hotel drop., as i do have lot of time for my check in. So i have paid 134 bhat and took a ticket to pattaya. Then i sat near by seat to the counter and get my phone charged. When the departure time comes the boy in the counter call us and take us to the bus and gave us a paper with list of drop off locations in pattaya. My hostel is in central pattaya so i choose to get down at central pattaya junction. It was about 1 and half hour journey and we reach pattaya. YAY the celebration starts…
It was JAN 1 and the streets were looking tired of last night celebrations. My GPS shows my hostel is about 2.5kms from the location i got dropped off. In the junction itself a minivan started towards the location i have to go. Also on the way every 2 mins there are set of people sitting with some colored uniform and asked me to take taxi ( BIKE is what they call taxi… i mean they can take you to your destination in their bike itself and charge you few bhats based on distance… that is most convenient but they ask over price to tourists most of the time ) . I did not take any transport as i did had almost 2 hours for my checkin time. Also the road looks full of shop and every street looks like party street. so i started walking towards the direction my GPS shows. It was pretty simple straight way. Randomly i get into shops and tasted different foods there. Every corner seven eleven shops. Equally there is one more guy named FAMILY MART had shops every corner.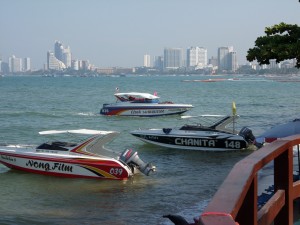 Finally i reached my hostel. The total amount i spent for transportation is just 134 Bhat to reach my hostel from Don Mueang. Pretty cheap isn't it ?
HAPPY TRAVELS 🙂